Main Content Starts Here, tab to start navigating

Porters
Slide 1 of 7
Slide 2 of 7
Slide 3 of 7
Slide 4 of 7
Slide 5 of 7
Slide 6 of 7
Slide 7 of 7
Bar
4 p.m. to 10 p.m. Monday through Saturday
Closed Sunday
Patio
Exclusive Rare Spirits & Wines
Reservations recommended
Learn More
Dinner
Open Monday through Saturday, 4pm to 10pm. Closed Sunday.
Chef driven cuisine honoring local and seasonal ingredients with simplicity & elegance
INDOOR AND OUTDOOR DINING available 6 Nights a week
Take-out also available.
Learn More
Our Story
Porters is nostalgically named in honor of all the men and women who work professionally aboard passenger trains bringing food, drink, courtesy and a warm smile to their traveling patrons.
We welcome you to a classic American restaurant and bar and a tantalizing taste of oldtown Oregon history. The city of Medford was born in the late 1880's when the Central Oregon and Pacific railroad pushed south through a town called 'Middleford' in the Rogue Valley. By 1910 Medford, renamed by a railroad engineer, was a rapidly growing, prosperous community and Jackson County had become one of the fastest growing counties in the United States. In February of 1910 ground was broken for a new brick railroad depot to replace the older, wooden structure located south of Main Street. This new passenger depot was completed and dedicated in October of the same year, a mere nine months from start to finish. After just two glorious decades passenger rail service declined due in part to the Great Depression and the increasing popularity of automobile travel. From 1955 to 1996 the depot was abandoned or used only as a freight office. Now, after an extensive renovation as a restaurant and a bar and designation as a National Historic Landmark, this true gem of Southern Oregon architecture once again proudly serves the community.
While enjoying your visit and award-winning cuisine, take a moment to observe and appreciate the numerous original and still functioning features of this historic building: over 40,000 Mid-west red roof tiles, hand chiseled exterior granite corbels and massive wooden beams. 100-year-old 'railroad graffiti' adorns much of the hand-hewn brickwork. Indoors one finds the original golden painted radiators that heat the building, craftsman style chandeliers (reproduced from a 1914 interior photograph) radiating their own warmth and ambiance. The windows are all original, having been recased and rehung. Many early artifacts are displayed including a ladder for attic access and a ticket making machine. The original railway Passenger Ticket Counter now serves as the curved center section of the bar. Our Station Master's Office banquet room, complete with a custom audio-visual center featuring flat screen TV, DVD and internet services, was once the sole domain of the Station Master, who no doubt held a party or two of his own there. This room is a great spot for showing your company or family videos, slideshows or DVDs. The giant mural, painted by Emil Knutson, is from a 1912 photograph. And much credit and thanks to Roger Whipple of Jacksonville, for his early restoration work.
We are locally owned and operated. We will do our best to meet your dietary needs. We buy from local growers, vintners and artisans. We recycle and compost. We accept all major credit cards. We reserve the right to assess parties of 6 or more a 20% service charge (but you are welcome to leave more since your porter shares tips with the whole crew). We like what we do and we hope you do as well. If so, tell all your friends. If not, please tell us. Thank you and have a pleasant night. And do come see us again.
Tim & Rolar - proprietors.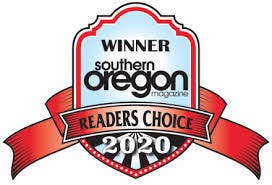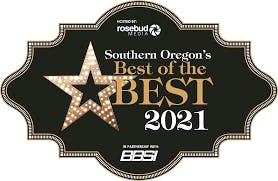 PRIVATE DINING
Enjoy a Private Business Meeting,
Host a Speaker Event Dinner
or stage a family gathering in the original
Station Master's Office,
complete with internet service, big screen TV and wifi.
FAQ
May I order take-out?
Yes.
Do you offer a special bar menu?
Not at this time.
Are you open all week?
No, we are closed Sunday
Porters Hours:
Dinner 6 nights a week from 4:00 pm to 10:00 pm
Bar 6 nights a week from 4:00 pm to 10:00 pm
Do you offer outdoor dining?
Yes, we have TWO patios! Both are non-smoking and family friendly. RESERVATIONS RECOMMENDED. 541-857-1910
Do you take online reservations?
Absolutely! please go to RESERVATIONS/BOOK NOW-RESY on our web site and enter your information and submit the form. If you prefer, you may also call 541-857-1910 for reservations as well.
Is your facility handicapped accessible?
Yes, we are handicapped accessible/compliant. No stairs or ramps by passing through our Track Side patio.

Is your restaurant rated?
Yes, we are Medford's only AAA Three Diamond Rated.
Do you serve brunch?
No, we do not serve lunch or brunch.
BOOK A TABLE NOW!
Work With Us
We are seeking fun and energetic team members to help grow our business and deliver an exceptional guest experience. Would you like to work in a histroric landmark 1910 train station? It's a great environment to be in and work in. We've been in business since 2001 and look forward to many more years. We are locally owned and have a great management team. Everything is in place for you to be successful. If you've got a background in hospitality or are interested in a new career, let's talk.
Contact
Send us a message and we'll get back to you as soon as possible. You can also reach us by phone at 541-857-1910
Looking forward to hearing from you!